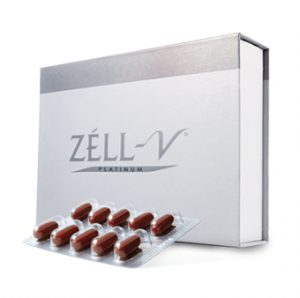 Cells are the most basic unit of the human body. When our cells are healthy, our body will be healthy as well. Unfortunately, our cells ages and deteriorates with time, resulting in a decline in our health and appearance.
ZÉLL-V Platinum Sheep Placenta Extract is science's answer to defy ageing. Exclusively formulated by Swiss and German medical experts, ZÉLL-V is rich in active cellular materials, growth factors and transfer factors that are capable to protect, repair and renew cells. It comes in enteric-coated softgels able to withstand gastric acid damage in the stomach, resulting in maximum absorption of the active cellular materials at the small intestine, thus optimising the rejuvenation effect.
Each 300 mg ZÉLL-V softgel contains up to 15,000mg of fresh sheep placenta extract (50:1 concentration) to boost cellular renewal and revitalisation.
Taken into the body, ZÉLL-V effectively targets, repairs and rejuvenates the exhausted and old cells of the body, resulting in better health, a more youthful body and appearance, and quality life.
16 Remarkable Benefits
Smoothes away wrinkles, lightens facial pigmentation and improves complexion
Improves skin elasticity & enhances skin texture
Enchances stamina & energy level
Improves sleep patterns
Stabilises weight to a normal level
Decreases serum concentrations of cholesterol & triglycerides
Improves alertness & mental awareness
Increases flexibility in joints & disc
Regenerates cells, tissues, & organs
Firms up the bust
Improves immune defense against diseases
Decreases premenstrual tension & feminine problems
Reduces premenopausal syndrome & delays menopause
Decreases risk of heart disease
Improves blood circulation
Increases vigour & vitality